CBD NIGHT BALM VEGAN 50ML - ALPHA-CAT

-

ALPHA-CAT

-

CBD NIGHT BALM VEGAN 50ML For All Skin Types 28% Hemp...

- Product GTIN :

8594200350222 -

Product Ref :

CBD006

- Category :

ALPHA-CAT

- Price :

23.10

€ - Stock : In Stock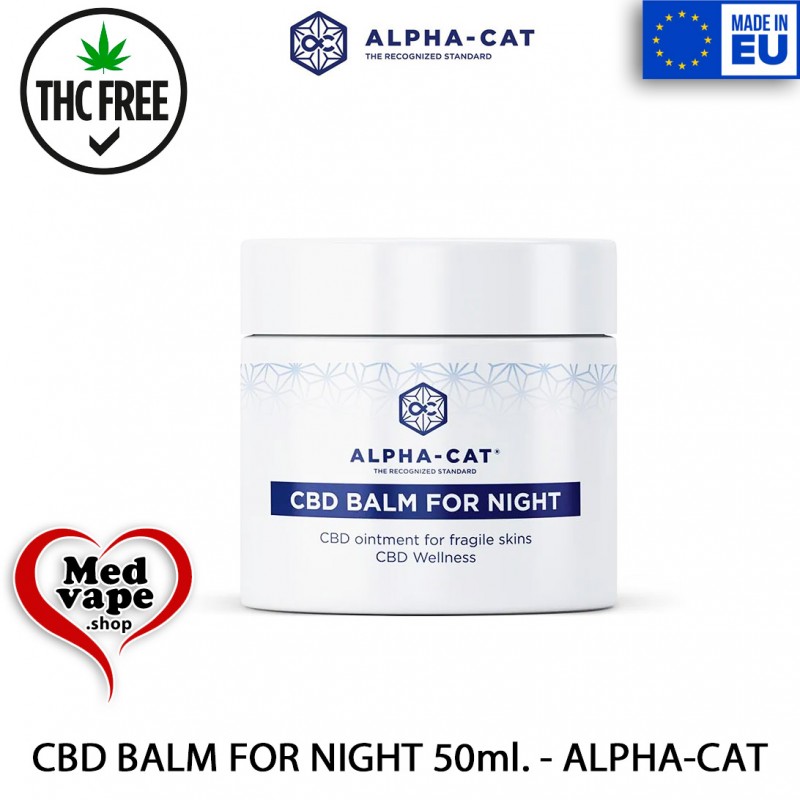  
CBD NIGHT BALM VEGAN 50ML - ALPHA-CAT
CBD NIGHT BALM VEGAN 50ML
For All Skin Types 28% Hemp seed oil
Nourish your whole body with vegan, plant-based Hemp CBD Night Balm.
CBD NIGHT BALM VEGAN 50ML - ALPHA-CAT
This ointment will help you combat very dry and flaky skin avoiding discomfort and itching.
Vegan CBD Balm is a cannabinoids ointment, it has amazing anti-inflammatory properties and helps your skin at the root level.
Its rich formula, bursting with Omega 3 and 6, reactive and fortify your skin's barrier function.
Breathe deep and enjoy ultra-relaxing blend of lavender, chamomile and calendula.
Suitable for premature infants as well as for the elderly.
Who is CBD Vegan Night Balm for?
CBD Night Balm is suitable for all skin types from head-to-toe for the ultimate self-care treatment.
Ideal on atopic dermatitis, eczema, psoriasis, dry and dehydrated skin, flaky and hypersensitive skin, irritation and redness, persistent nappy rash and haemorrhoids.
You can use vegan cream in time of stress to calm your mind and body.
Key Ingredients of CBD Night Balm:
Lavander (Lavandula officinalis) – soothing and relieves pain
Chamomille (Matricaria chamomilla) – calming and nourishing
Souci (Calendula officinalis) – antimicrobial, antiseptic and muscle relaxant
Hemp (Cannabis Sativa) – essential fatty acid improve cellular balance, omega 3-6 and vitamins.
What to expect from using CBD Vegan Night Balm?
Aroma:
Lavender fruity aroma
Product texture:
Medium weight cream
Skin response:
Hydrated, regenerative
Weight:
0.1 kg
Dimension:
5 × 5 × 8 cm
Customers who bought this product also bought: