20% CBD BROAD SPECTRUM OIL 2000mg 10ml - ALPHA-CAT

-

ALPHA-CAT

-

BROAD SPECTRUM 2000MG CBD Oil 20% Lab Quality 2000mg CBD...

- Product GTIN :

8594200350116 -

Product Ref :

ALC113

- Category :

CBD

- Price :

66.07

€ - Stock : In Stock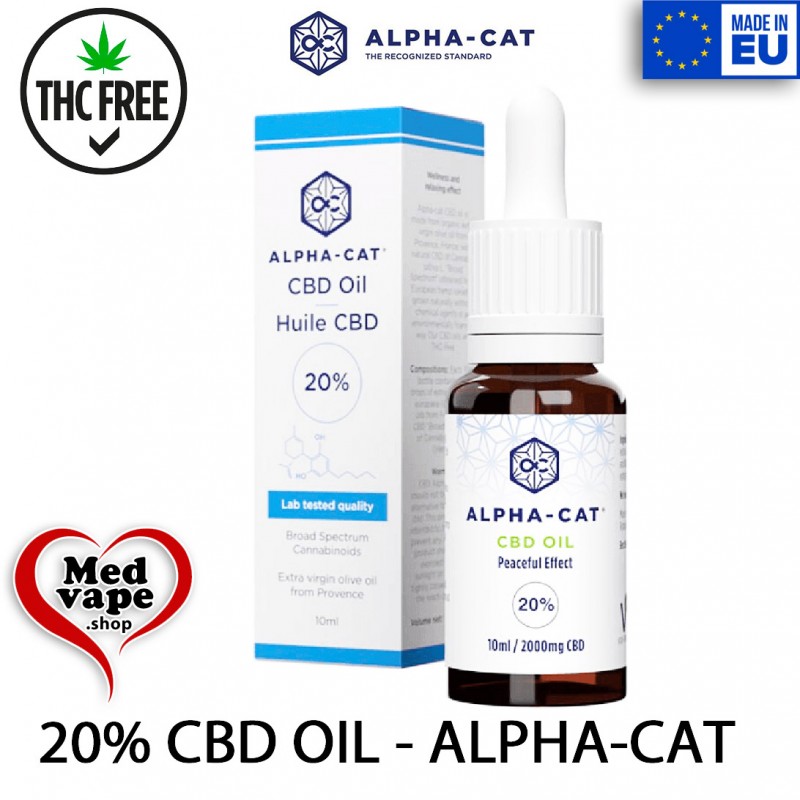  
20% CBD BROAD SPECTRUM OIL 2000mg 10ml - ALPHA-CAT
BROAD SPECTRUM 2000MG CBD Oil 20%
Lab Quality 2000mg CBD Oil blended with Organic Extra Virgin Olive Oil from Provence.
Available in a 10ml bottle with an oil concentrate of 20%
BROAD SPECTRUM 2000MG CBD Oil 20% ALPHA-CAT
Alpha-cat provides you with the best CBD quality, available in an oil concentrate of 20%. 
This 2000mg Broad Spectrum CBD oils is made from European hemp, guaranteed to be free of pesticides, heavy metals or other pollutants.
Once harvested, the hemp is carefully selected following a strict protocol to ensure production standards and thus allow  constant rates in CBD.
The extraction method of the hemp makers follows rigorous protocols to obtain qualitative extracts with high content of cannabinoids (50% of CBD).
The CBD extraction used by Alpha-cat contains broad spectrum of cannabinoids and terpenes, to allow CBD to express itself in a more efficient way.
To guarantee homogeneous, stable and qualitative oils, only natural products made from 100% healthy plants.
Naturally rich in Omega 3 with a taste of the Mediterranean, Lab Tested Quality CBD oils free of any traces of THC (0% THC).
Bottles are equipped with a drop dispenser, to give your body the right dose of CBD oil needed.
Each drop of 20% Broad Spectrum CBD Oil contains 10mg of CBD.
Customers who bought this product also bought: