CANNABIGEROL CBG Oil (4%) – 10ml 400mg ALPHA-CAT

-

ALPHA-CAT

-

CANNABIGEROL CBG Oil (4%)  – 10ml 400mg Lab Quality 400mg...

- Product GTIN :

8594200350147 -

Product Ref :

ALC107

- Category :

ALPHA-CAT

- Price :

33.02

€ - Stock : In Stock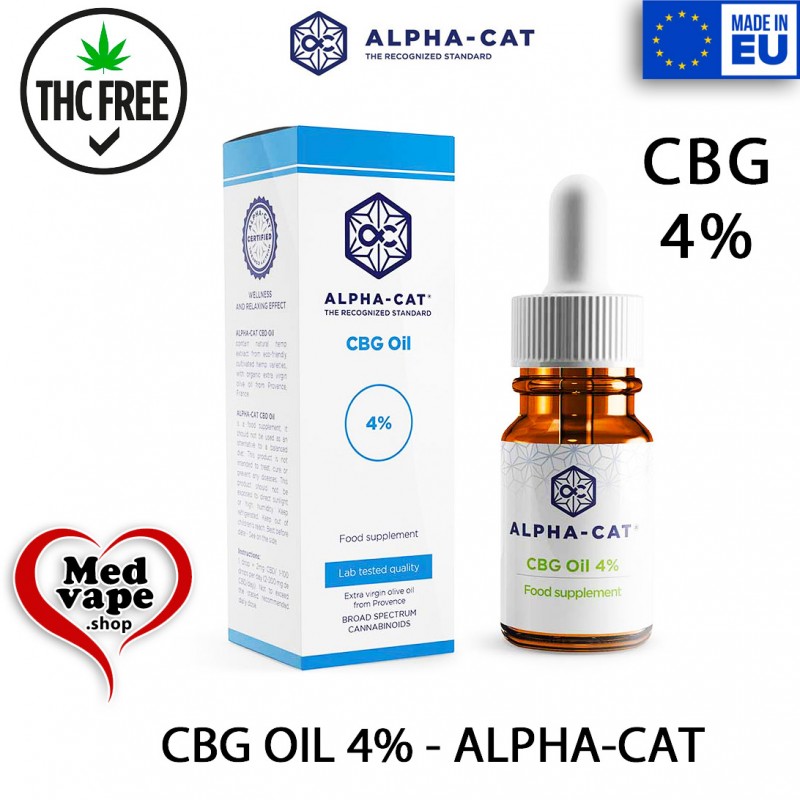  
CANNABIGEROL CBG Oil (4%) – 10ml 400mg ALPHA-CAT
CANNABIGEROL CBG Oil (4%)  – 10ml 400mg
Lab Quality 400mg CBG Oil blended with Organic Extra Virgin Olive Oil from Provence.
Available in a 10ml bottle with an oil concentrate of 4% each drop of 400mg Cannabigerol Oil contains 2mg of CBG.
CANNABIGEROL CBG Oil (4%)  – 10ml 400mg  ALPHA-CAT
For over 10 years, Alpha-cat has worked hand in hand with the pioneers of CBD and other legal cannabinoids in Europe.
This allows them today to have access to cannabinoid extracts of superior quality, legal, and guaranteed THC Free (0% THC).
Alpha-cat 400mg CBG Oils are made from European hemp and are guaranteed to be free of pesticides, heavy metals and other pollutants.
Once harvested, hemp is carefully selected following a strict protocol in order to guarantee production standards and thus allow us to ensure constant levels of Cannabigerol (CBG).
The extraction method of our hemp follows rigorous protocols in order to obtain qualitative extracts with a high content of cannabinoids (50% of CBG).
To guarantee homogeneous, stable and qualitative oils, only used are natural products made from 100% healthy plants.
In addition to the high quality extractions, Alpha uses organic olive oil from Provence in the south of France to preserve the benefits of their molecules.
They are able to offer products easily assimilated by the body, naturally rich in Omega 3 with a taste of the Mediterranean.
Still with the view of optimizing the potential and assimilation of the plant, Alpha's CBG oils contain what is called the entourage effect by combining, in addition to cannabinoids, the terpenes and natural flavonoids contained in the hemp.
Dosage:
Each 10 ml bottle of 4% CBG Oil is equipped with a drop dispenser (dropper) to provide right dosage.
Each drop of 400mg Cannabigerol Oil contains 2mg of CBG.
These CBG oils are free from all traces of THC and fully comply with current EU legislation.
Customers who bought this product also bought: